Average weight loss - 9-15 lbs per week
Frequently Asked Questions
What time will I need to arrive/depart?
Arrivals:
For mid-week short break or weekend retreats arrivals are between 1-2pm.
For 5-6-7 day retreats arrivals are on Sundays between 3-5pm
Departures:
For weekend to 5 day retreats – after Lunch
For 6-7 day retreats – after breakfast, i.e. 9-10am
*Please note we are a Retreat and do not operate as a hotel, therefore all arrival and departure times must be adhered to.
Do you have an age limit?
The minimum age is 18. If you are over 65 years of age, have a medical condition or pregnant we require your GP's certificate of consent. Also, if our diet and exercise regime is likely to be a drastic change to your habits we strongly encourage you to consult your GP prior to booking a retreat.
Please note we do not operate as a medical facility.
How many people do I share the room with?
Our shared rooms (both standard and en-suite) are for same sex guests and shared with one other person. The standard rooms have shared bathroom facilities perfectly adequate for the number of guests sharing.
Why do I need to bring my credit card on arrival?
For pre-authorisation purposes we require you to bring a credit card. In line with the hospitality industry regulations in the unlikely event if damage may occur during your stay and up to 24 hours after you depart Slimmeria Ltd reserves the right to both debit and charge the provided credit card up to £500 for incident or damage. Using a credit card will not affect your balance. If you use a debit card the amount will be held so you are unable to use the amount until it is re-credited. Dependant on a card issuer it may take between 5 to 7 days.
What is your cancellation policy?
We do not offer refunds but provided at least 3 weeks notice is given, we will endeavour to reschedule your booking, subject to availability and an administrative fee of £100 per person.
Force Majeure: In the unlikely event of extreme weather conditions preventing Slimmeria from running a retreat, we will reschedule your retreat at a mutually convenient date within 12 months. We recommend you arrange your own travel insurance.
Please note that any retreats booked on a special offer (i.e. no refunds, no cancellations, etc.) cannot be rescheduled once confirmed. 
Where is the nearest train station?
To Slimmeria Retreat in East Sussex – Crowhurst is the nearest train station, around a 5 minute taxi ride (approx. £10) or a 15 minute walk away from the house.
Direct trains from London Bridge, Waterloo or Charing Cross towards Hastings are approximately 90 minutes and run every 60min.
Is there a pick-up service from the train station to the house?
We do not run a pick-up service, please see the question above for directions.
At Slimmeria Hye House in Crowhurst we have a free car park for our guests only.
What happens each day?
Please view our Home page and follow the read more link to see programme details.
What type of food do you serve?
Please view our Home page and follow the read more link to see programme details.
Will I feel hungry during my stay?
Most people do not feel hungry as they keep themselves busy throughout the day. Water is also available any time of day. It is wonderful not to overeat!
Is there an alternative for the food?
We follow a set detox menu and only specific allergies and intolerances will be dealt with. We only stock raw detox food, which facilitates rapid weight loss and proper detoxification of body and mind. We do not cater for individual tastes as we are not a restaurant. Please note a charge might apply in cases with numerous allergies.
Can I bring extra vitamins and supplements to take during my stay?
We advise to keep all un-prescribed supplements for your new regimen at home. However, you should continue with your prescribed medication.
What happens if I feel ill during the detox?
You may feel lightheaded, have a headache, etc., or experience some other perfectly normal detox side effects. You will eat a clean, healthy diet and drink plenty of water, which can only benefit you.
What do I need to bring with me?
We will provide you with a list and pre-detox recommendations.
Do you have a charging point for toothbrushes and shavers?
Do you have WiFi?
Yes, we have WiFi in the house and you can use your phones/laptops in your room ONLY as we do not tolerate phones in the guest areas or during the walks as we like our guests to relax. Please note we have to respect other guests especially if you are sharing a room. We do recommend you keep it to a minimum to detox your mind as well as your body.
Do you have a gym?
We have a fitness studio and equipment, however, this is for the set fitness classes. We feel the classes we offer along with our detox are more than enough for your energy levels on this particular diet plan.
We recommend you attend as many activities as possible to achieve the greatest weight loss and detox results.
Will I have free time?
In the afternoons we offer unaccompanied walks but this is also an opportunity to book additional spa treatments or relax.
What can I bring to help me relax?
As an example, you can bring a favourite pillow/blanket. Otherwise we hope with all the fresh air and exercise you will be ready for sleep. We do not recommend anyone having afternoon naps. Do bring a book or relaxing music to listen to in your room with your headphones.
What toiletries are included?
We provide a bath towel and a hand towel along with a hand soap. We do not provide shampoo/conditioner/shower gel etc or dressing gowns.
Will my room be cleaned everyday?
There is no change of linen/towels for guests staying up to 7 days. We do have towel rails to use to dry towels.
I have an injury/difficulty walking, could you advise me on the accessibility of my room?
Rooms on first and second floors are accessed by stairs only. These include:
Twin en-suite rooms – top floor
Double bed en-suite rooms (including Boutique Four Poster Suite) – either on the first or second floors.
Standard rooms (with shared bathroom facilities) and a Garden Suite are on the ground floor.
Please note there is no lift.
Can I book spa treatments?
You can't book spa in advance but you will be provided with the spa menu upon arrival at the retreat.
Will the pool be open?
We have an outdoor unheated pool at Hye House in East Sussex, which is open during the summer months, usually May-September, dependant on weather.
Do I need walking poles?
These are optional but if you have them and it's convenient to pack them, they can be useful.
How far are the walks in miles?
We walk for approximately 2-3 hours per day and the walks range from 4-8 miles.
What if I cannot walk as fast as everyone else?
We always have groups that are of mixed abilities and we all work as a team. If our accompanied walks are too difficult we can offer alternative walks if required.
Can I weigh myself during the week?
We advise our guests to weigh themselves at the end of their stay and not to bring scales with them as well as focus more on fitness and detox.
Where can I find your price list/special offers?
Please view our hot deals panel on the home page.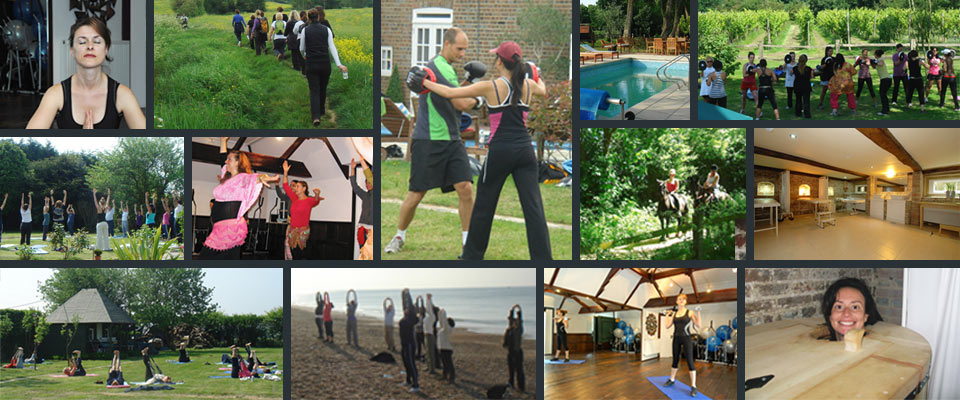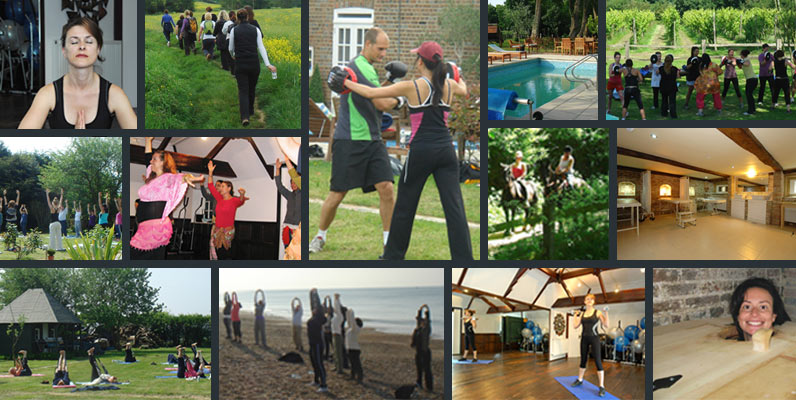 Slimmeria Retreats. Making slimming easy.
Slimmeria, Hye House, Royal Oak Lane, Crowhurst, East Sussex, TN33 9BX | Company Reg 07109375 | info@slimmeria.com
Slimmeria is a luxury slimming, detox and weight loss retreat set in the beautiful Sussex countryside, not far from London, Brighton, Tunbridge Wells, Kent or Surrey, UK.