Average weight loss - 9-15 lbs per week
Keep It Simple and Bounce Back Retreats
Slimmingly yours – the Slimmeria team
Back to Basics!
Detox, fitness & Weight loss Retreats at Hye House, East Sussex.
For a truly unique and bespoke detox, fitness and weight loss holiday look no further.
Slimmeria – a specially designated retreat for people to lose weight.
Exclusive and private, affordable and effective, you are sure to find your ultimate slimming and detox programme with a touch of luxury.
In the tranquility of our Slimmeria Retreat our experienced, dynamic and friendly team of fitness and yoga instructors, personal trainers, massage and beauty therapists are on hand to pamper you and give specialist advice on how to maximise your intensive detox programme, helping you to lose weight fast.
Slimmeria is also the best weight loss and fitness boutique retreat to soothe away the stress of modern day living in our peaceful, private surroundings.
Our detox and weight loss programme is unique in its simplicity, remarkable in its effectiveness, and is aimed to create an effect of total wellness, making the fasting experience enjoyable.
We pride ourselves in using the best locally sourced produce for our natural detox and fasting diet, and our freshly prepared raw vegetables, juices and soups will stimulate the slimming process in a healthy way, and will facilitate quick weight loss, without resorting to extremes.
At Slimmeria we combine the effectiveness of a weight loss boot camp with the benefits of an exclusive health spa, and our daily fitness and weight loss programmes are set to encourage weight loss and detox. All fitness activities are designed to suit people with different levels of stamina, to cater for the individual needs of each customer, and guarantee rapid weight loss in a short space of time. Our residential health and fitness retreats will provide you with a complete mind, body and soul MOT.
Situated as far away from temptations as possible, and only slightly over an hour's train journey from central London, our health retreat is nestled in the beautiful and historic location of Crowhurst, Battle, in East Sussex's 1066 Country.
The grade 2* Listed Georgian country house has undergone a complete renovation programme offering boutique spa hotel accommodation in a secluded hideaway with idyllic views across sweeping countryside.
…and finally, to help you to fully embrace our ethos, you will be asked to restrain from some of the comforts of modern day life : TV, the Internet, as well as consumption of coffee, tea and alcohol.
At Slimmeria we aim to create a calm and relaxing atmosphere to enable our customers to switch off completely from a busy and stressful lifestyle. For this reason mobile 'phone use is restricted to private rooms and outside recreation areas.
We look forward to this great opportunity to welcome you to our boutique health retreat. You know you can do it. That slim and confident you!
PLEASE NOTE WE ARE NOT A MEDICAL FACILITY AND NOT A DRUG OR ALCOHOL REHABILITATION RETREAT
Sea Breeze escape!
Weight loss & Rejuvenation Retreat at Merlin Court, Devon
NEW picturesque location
Historic building
Two steps from the sea
Boutique environment
Holiday with a benefit
Stable weight loss and full weight management education
Mouthwatering vegan menu facilitating new relationship with food
Unique opportunity to become the captain of your transformation
Essential tools to cope with temptations of the real world
Total rejuvenation inside and out
If you are looking for a holiday with a twist and tremendous benefits – this retreat is your answer. It is not your typical getaway by the sea, but a resort with healthy benefits. During this 6 day programme you will detox and lose weight, learn to resist temptations and completely rejuvenate inside and out. You will learn the art of Slimming and master the art of Healthy Living. The package includes carefully planned menu consisting of healthy food only, Slimmeria's signature fitness formula and schedule, and daily invigorating coastal walks.
Eat clean, train dirty, lose weight, rejuvenate!
Keep it Simple and Bounce Back
Devon Retreats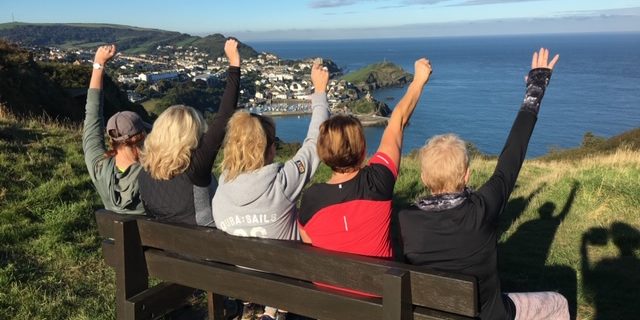 6 DAY RETREATS
Inclusive of detox menu,
5 accompanied walks, 5 fitness classes, 2 extra classes tbc.
Spa treatments available on request.
NO MORE RETREATS IN 2022
Slimmeria Retreats. Unbeatable value, guaranteed results.
Slimmeria, Hye House, Royal Oak Lane, Crowhurst, East Sussex, TN33 9BX | Company Reg 07109375 | info@slimmeria.com
Slimmeria is a luxury slimming, detox and weight loss retreat set in the beautiful Sussex countryside, not far from London, Brighton, Tunbridge Wells, Kent or Surrey, UK.